Blueburr sat taller still, though he did not know why. It didn't matter much how he held his posture, did it? No matter how high he held his head or puffed his fur, to look like a strong asset, the cat before him would not be swayed. The realization perhaps shocked him a bit. This wasn't a test of his strength, the fights he'd seen, the scars to prove his worth in hunts and battles. This was a test of loyalty. He could come into this clan ragged and torn, unfed and weak, but if he had enough merit it seemed they would still let him pass.

"You will have my unwavering loyalty, I swear it.. I believe she is smarter than I, you see.." Ah.. how to explain this.. Blueburr struggled finishing his thoughts, hoping the cat before him would let him reach his conclusion, even if the path seemed unorthodox. "I have not known of a,, place like this before. The life of a loner is quiet, and deadly. I'm sure you know.." His paws shifted along the ground, pressing the awkward tension in his body out through the pads of his feet into the ground... Or, he felt that way. "But I want to try, to learn to love and be loyal like this. If a cat as smart as she, and as the others I have met here, have found reason and hope in living like this.. Then I want to as well." He reassured, leaning ever so slightly closer the more passionate he felt when he spoke. "If a cat amongst you places their trust in me, I will lay down my life for them.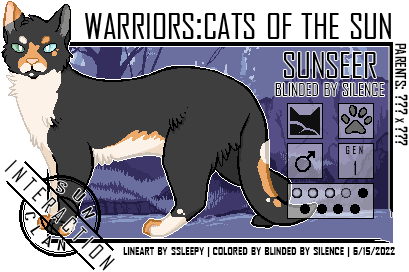 The blind tom held his tongue for a moment as the once-loner swore his oath. Then, with a pleased rumble of a purr, he nodded, pleased with the large tom's answer.
"Then we will find you a mentor who is willing. Tomorrow, of course. Come, it is nearly time for last meal,"
He stood and beckoned the large cat to follow him to the center of camp with a sweep of his tail,
"Let me take you to meet your new clan, paw."

@AlicornPlayhouse